The Resort
Punta Cana is located on the Atlantic coast of the Dominican Republic. This upscale family resort is perfect for children and parents alike. It is also the best destination for Spa* getaways and watersports lovers. In the south east corner of the Dominican Republic, the beaches of Punta Cana, vast stretches of dazzling sand where the turkoise sea meets the brilliant blue sky, are considered to be some of the most beautiful in the world.
The resort lies alongside a lagoon that lives in perfect harmony with a magnificent coconut grove, spreading its wings in the shade of the tropical plant life. This idyllic location opens out onto a 400-metre-long private beach surrounded by a coral barrier. The lagoon pool adds to the heavenly atmosphere of the place. An invitation to share a mixture of sport and relaxation with all the family.
Discover Tiara, the 5 Trident Space of Punta Cana, where you will enjoy high level services, intimacy without losing the Club Med Spirit.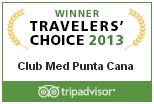 Club Med Punta Cana - Higuey - Phone: (1) 809 686 55 00 - Fax: (1) 809 959 52 87